The Denim Design Digital Prize ended on October 29th and proclaimed its three winners, determined by the votes of fans on Facebook.
Thanks to a dedicated app, integrated on the ISKO I-SKOOL™ official Facebook Page, users had the chance to become digital jurors panelists by voting their favorite denim outfit, contributing to designate the three "Digital Prize Winners" of this fourth edition among the 20 astonishing design projects and garments produced by the students who took part in the final phase of ISKO I-SKOOL™ 4, officially ended in July.
Moreover, for the first time this year, a "Voter Special Prize" was awarded to one of the voters, randomly selected through a dedicated functionality of the app, winning a special ISKO™ gadget: the prestigious "Bluemasters Book".
Votes were cast from 16 to 29 October 2017 and voting was open to all active Facebook profiles, generating, given by unique users, with an overall coverage of more than 13.000 users involved, for a page that has now exceeded a total of 53.000 fans.
The three winners of the ISKO I-SKOOL™ Denim Design Digital Prize are: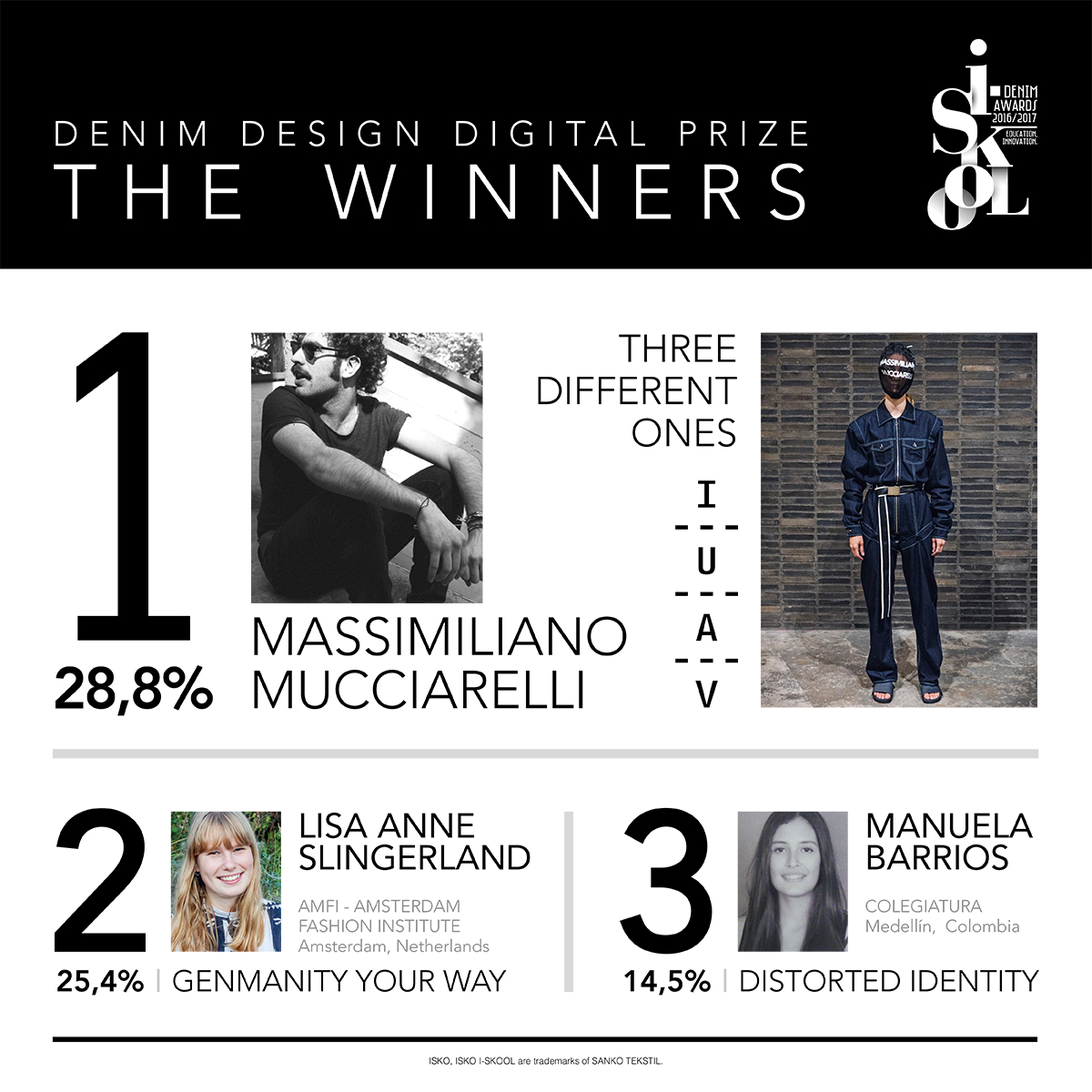 The success of the fourth edition of ISKO I-SKOOL™ was another leap forward for a project that has become more and more able to connect industry with young talents, highlighting its great potential for innovation and future developments.

"ISKO I-SKOOL™'s key objective is to nurture emerging talent, educate, and contribute to innovation in denim.  Working with some of the best schools and students in the world, the project has accomplished great things so far. We are aware there are some areas that need improvement and the next editions will provide amazing new opportunities. We are constantly at work with the intent to develop a large denim community,  both offline and online, and reinforce responsible best practices by making an impact on the students and the entire value chain. We want to spark a denim revolution." says Fabio Di Liberto, Brand Director of ISKO™.