The fifth edition of ISKO I-SKOOL™ is ready to present the Marketing Award.
Addressed to students from some of the most influential marketing and communication schools worldwide, the project offers them the unique chance to test their knowledge by designing a professional marketing plan applied to the denim industry.

In the frame set by "UnDocumented", the main creative theme of the fifth edition, students are asked to develop a complete marketing plan applying their strategic approach, out-of-the-box thinking and creativity.

An extraordinary chance for the talented participants from all over the world to benefit from an exclusive network of industry leaders, which includes international marketing and communication experts.

Participants shall register online and upload their strategic marketing projects no later than June 15, 2018. The ISKO I-SKOOL™ team will then proceed to the shortlisting phase, selecting the projects that will access the final step for a chance to win an internship with one of the ISKO I-SKOOL™ 5 Partners.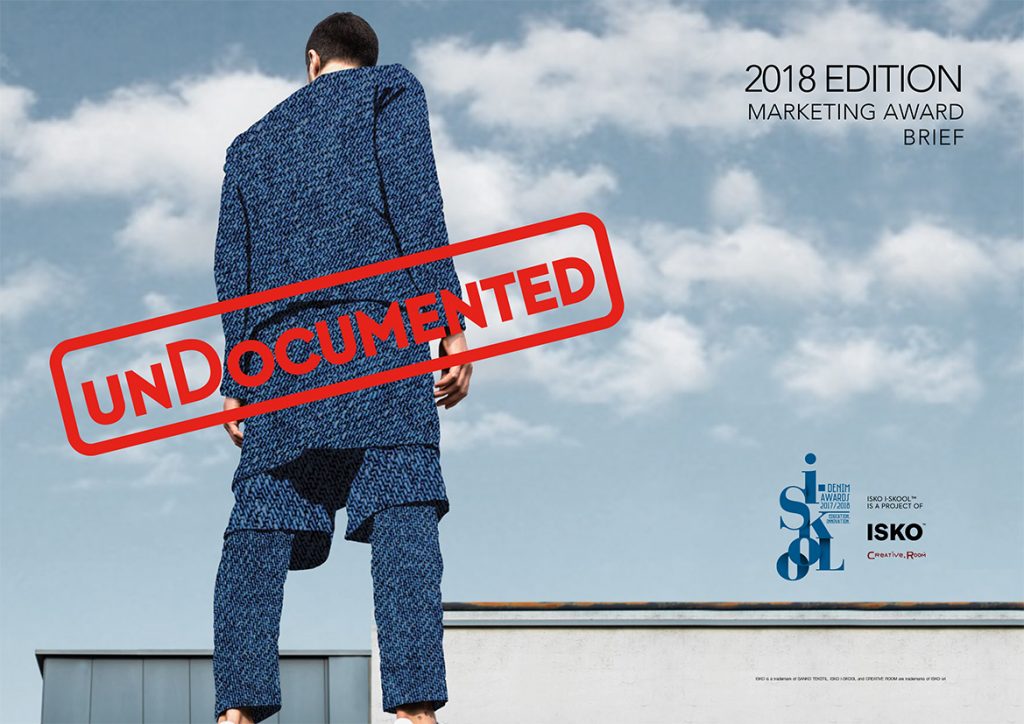 KEY POINTS:
ISKO I-SKOOL™ Marketing Award is open to all college students of some of the most influential schools of marketing and communication worldwide that have decided to join the fifth edition of the Award as partnering schools.
Participants can be individual Students or Teams (maximum four students per Team).
Each school must appoint a teacher ("tutor") to mentor the students throughout the whole process and project development.
MARKETING AWARD: HOW IT WORKS
Schools receive the ISKO I-SKOOL™ Marketing Award Rules and Brief and are assisted by the Tutors in their projects' development.

Based on the 2018 "UnDocumented" theme and on the market scenario outlined in the Marketing Award Brief, students are asked to develop a complete marketing strategy that successfully addresses a specific audience.

The strategy will be intended for an existing consumer brand which is launching a line of clothing and/or accessories that fully embodies the idea of a "Responsible and Positive vision of the Future" (UnDocumented). Students should focus their strategy and marketing plan on the importance of the "ingredients" for sustainability (from fibers, to fabrics, to production and so on). They must also take into account a specific challenge: how to market a responsible line without hinting that the rest of the brand's offer is less responsible?

Once the projects are ready, each school will select the best one for the formal submission. Students will be able to register online on iskooldenim.com until June 15th and take their chance to be shortlisted for the final phase that will lead them to participate in the ISKO I-SKOOL™ 5 Grand Finale, scheduled for July 2018.
Learn more about the MARKETING AWARD by reading the BRIEF of the contest and its RULES.