The new edition of ISKO I-SKOOL™, the fifth one since its start in 2013, is ready for take-off. The official guidelines and rules to apply for the Denim Design Award have been presented and made public.
Addressing fashion design students all over the world, the upcoming 5th edition of the contest will be characterized by a new and general main theme, set around the concept of "UnDocumented".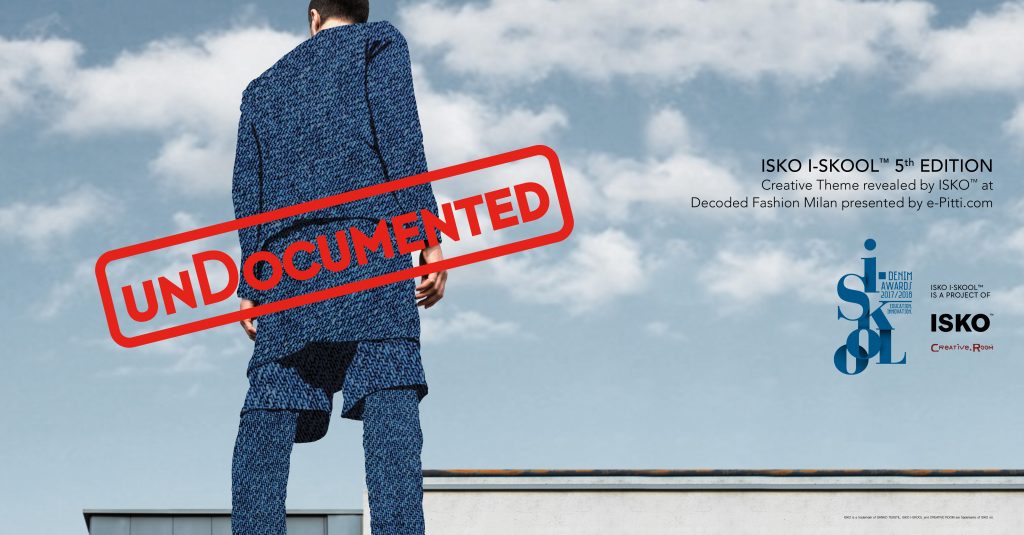 For the fifth year in a row the international denim contest will give the most talented students worldwide a chance to be part of a unique network of fashion professionals and expertise provided by ISKO I-SKOOL™.
As always the prizes are amazing, with prestigious internships and special mentions from the industry and beyond.
KEY POINTS:
ISKO I-SKOOL™ Denim Design Award is open to college students in their final year of a Fashion Design course (BA or MA), who will graduate in 2018 as Fashion Designers.
The ISKO I-SKOOL™ Team selects a list of schools to collaborate with, whereas each school must assign a teacher ("Tutor") to mentor students throughout the process.
For the second year in a row students outside partnering schools can apply to be part of the project. A maximum of 50 students can participate in the competition and at least one Independent Student will be shortlisted by the ISKO I-SKOOL™ team to take part in the final phase, given that all application terms, conditions and guidelines have been respected.
According to the assigned main creative theme "UnDocumented", students are asked to develop their projects that will lead to the creation of a real denim outfit.
During the initial phase students will have to produce several materials called "deliverables". All these materials are mandatory to start production of their own denim garment.
They will start "making their own Manifesto" imagining the future of denim, beginning from a blank page and trying to develop a new and fresh perspective. However, to imagine the future students will be asked to look at the past and at the social history of denim, guided by a series of "Documents" that testify the importance and historical role of denim from the Forties until today. These "Documents" on denim past social history, that serve as inspiration and documentation to develop the storytelling of a student's project, can be found and examined on ISKO I-SKOOL™ Denim Awards Pinterest Profile.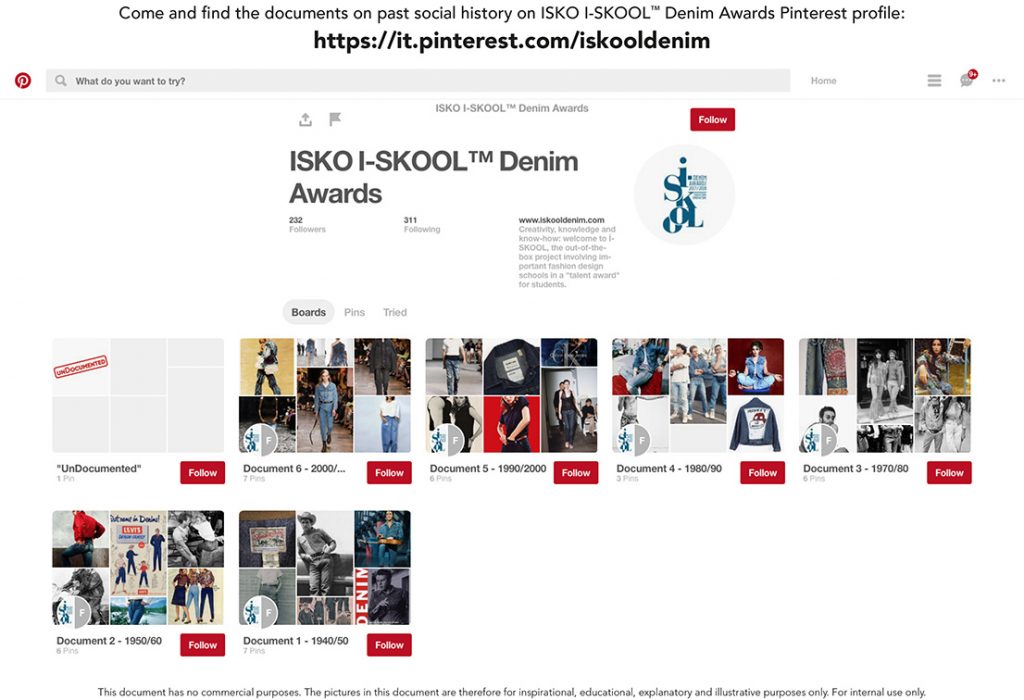 it.pinterest.com/iskooldenim/boards/
Students will have then to create their own inspirational board using images that have inspired their outfit project adding a brief storytelling of the concept behind it.

Furthermore, they will create sketches and drawings of the outfits having the possibility to choose from several denim fabric types provided by ISKO™.

During the final phase, led by ISKO I-SKOOL™ team, they will go through all the necessary steps to realize an industrializable denim outfit.
Learn more about the new DENIM DESIGN AWARD by reading the GUIDELINES of the project and get a chance to be shortlisted among ISKO I-SKOOL™ 5 Denim Design Award finalists!