The 7th edition of ISKO I-SKOOL™ is up and running and after the pre-selection phase it's now time to present the 20 shortlisted finalists.
The time has come and we are proud to present the 20 finalists shortlisted out of the many projects sent during the application phase through the ISKO I-SKOOL™ online platform.
The 20 finalists have been carefully selected by the ISKO I-SKOOL™ team, who examined in a dedicated two-day session all the projects uploaded by the applicants from many countries all over the world. All the young designers who applied during the pre-selection were asked to develop responsible concepts following the creative direction as set out in the Creative Theme "North, East, South, West: connected by one planet". The applicants had to design a Capsule Collection made of 6 garments inspired by the Creative Theme, while explaining in detail the reason that led them to pick those particular fabrics.
17 of the finalists are young fashion students coming from our exclusive panel of partnering schools, among the best in the world. For the second year running the contests was also open for Young Professionals in fashion design, who were eligible to apply if in the early stages of their career and if maximum 30 years old. The Young Professionals who have made it through the shortlisting phase this year are a total of 3.
Right after the shortlisting process the "educational program" will start. Involving all 20 finalists, it will guide them through the physical development of their collection, while delving more in depth into ISKO's world of exclusive denim fabrics and technologies selected to design their garments and outfits. Here is where the core of the ISKO I-SKOOL project begins. ISKO and Creative Room will take on an authentic educational role, leading tutors and designers with practical support, especially during the educational program and the Project Handover phase that will follow in April.
But now let's check out who are the new 20 finalists of ISKO I-SKOOL™ 7: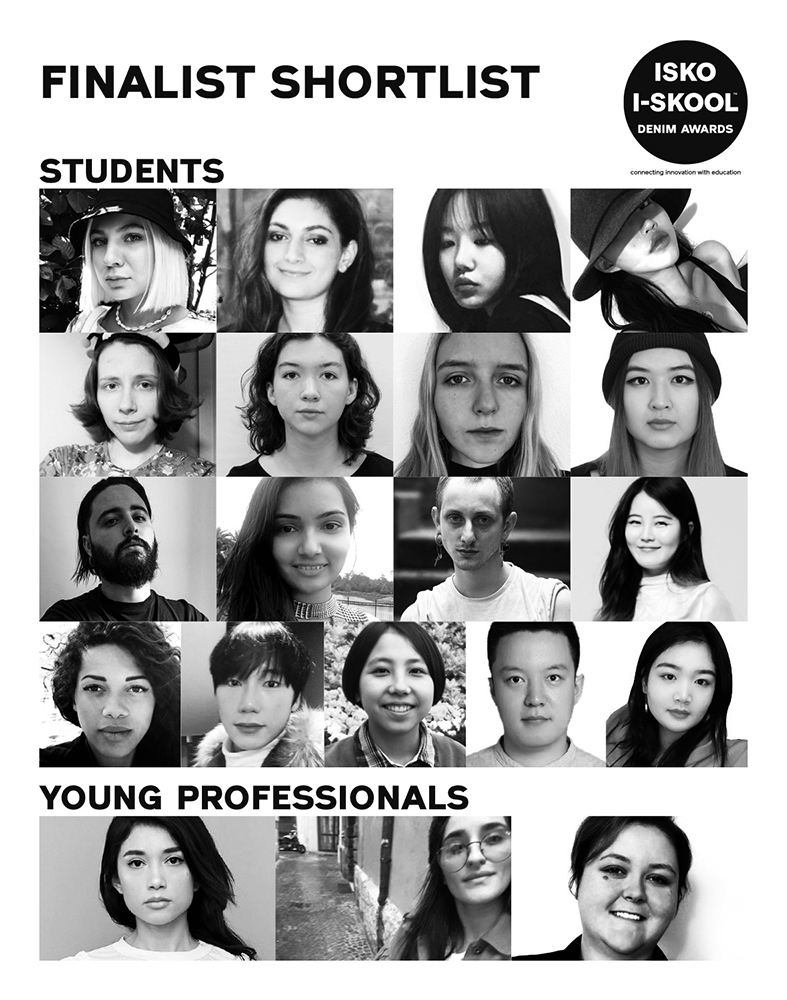 Students
Kotryna Adomaityte – NTU Nottingham Trent University
Bianca Betdashtoo – FIDM Los Angeles
Jung Yeon Choi – ESMOD Seoul
Lee Da Young – ESMOD Seoul
Venla Elonsalo – AALTO Helsinki
Isabel Hambly – NTU Nottingham Trent University
Natasha Law – Istituto Marangoni Milan
Nargiza Makim – POLIMODA Florence
Domenico Orefice – POLIMODA Florence
Twinkle Patel – SCAD Savannah
Lorenzo Seghezzi – NABA Nuova Accademia Belle Arti – Milan
Seohee Ruby Shin – FIT Fashion Institute of Technology – New York
Carolina Viviana Wolf – AMD Akademie Mode & Design – Munich
Sung Woo Yang – ESMOD Seoul
Ziyu Yao – BIFT Beijing Institute of Fashion Technology
Morita Yurika – BUNKA Japan
Ziyang Zhang – TSINGHUA University
Young Professionals
Lina Mayorga – Young Professional
Ourania Salacha – Young Professional
Shalyn Webber – Young Professional