The ISKO I-SKOOL™ 5 Denim Design Award is entering its crucial phase. From January 15th  at 9.30am (UTC+1 time) in fact, students and schools can start register online and upload the projects to be shortlisted for the final phase of the Denim Design contest.
Each partnering school can register up to a maximum of 10 students, upload all the required documents online and send the boxes with physical portfolios to the ISKO I-SKOOL™ team by February 15th, the deadline to officially present the projects.
The ISKO I-SKOOL™ team will shortlist the best projects to take part in the final selection of the Denim Design Award. A path that will lead the students to give life to their outfits, with the support of CREATIVE ROOM, the Italian ISKO™ specialized center for design and style research. The final stage will be the closing ceremony to be held next July.
Online registration:

Starting: January 15th at 9.30am (UTC+1 timezone).
Closing: February 15th at 5.30pm (UTC+1 timezone).
How the creative development works:
Students will have to develop cutting-edge concepts following the creative direction as described in the Creative Theme: UnDocumented.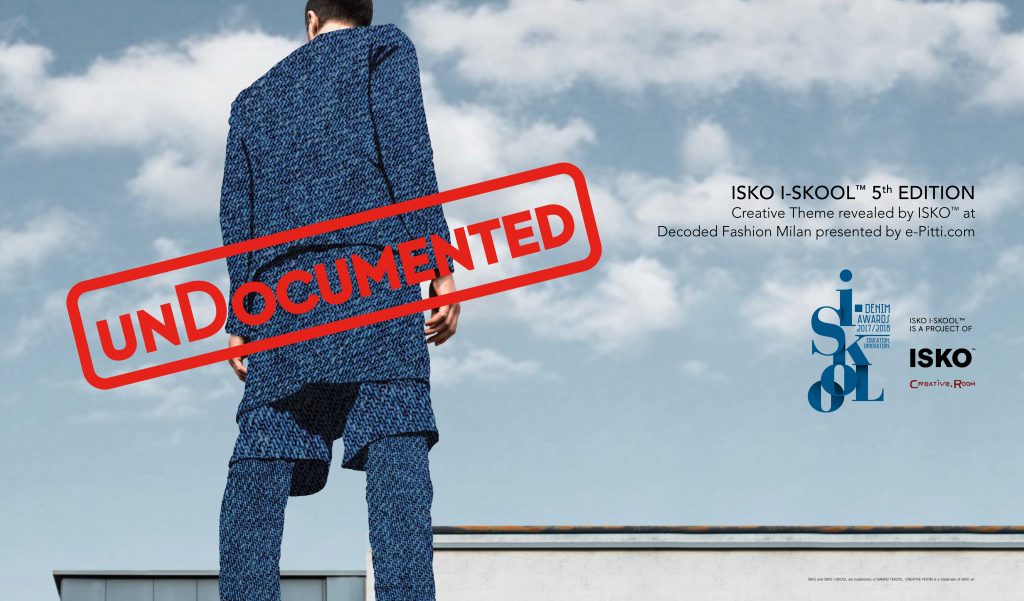 ISKO™ provides the students with a selection of its best avant-garde sustainable fabrics that applicants can explore and discover in advance consulting the "Fabrics Guide".
All fabrics are innovative and have been made implementing responsible measures during the production process. Technologies and concepts are an essential part of giving to the denim a sustainable element that adds value to the final consumer's experience.
Students are asked to write their own Manifesto, design one Outfit inspired by the Creative Theme and explain the reasons that led them to picking those particular fabrics. Participants are free to choose the reference season they prefer.
Independent students:
Independent students can apply as well being able to access the "Rules", "Creative Theme", "Creative Development Documents" and "Fabrics Guide" in the Guidelines section of the website, in order to develop their projects as described in detail in these documents.
Partnering schools:
Each partnering school has received an ISKO I-SKOOL™ Box containing the Rules, a Poster for the School's bulletin board, the description of the Creative Theme and the Fabrics Guide.
Read carefully the Guidelines section and get ready to apply for the Denim Design Award.