Promoted by ISKO along with its style and research hub Creative Room™, this first-rate international Denim Design competition crowned its winners, honoring and rewarding their talent and vision with an online celebration.
July 22, 2020 – It is all about sharing knowledge and values, shaping ideas and – most of all – love for denim: this is ISKO I-SKOOL™, the educational project started back in 2013 that has won the whole industry over year after year.
Aimed at providing hands-on experiences and actual tools to bridge the gap between the worlds of work and education, the program is in its 7th edition. This year, ISKO I-SKOOL™ welcomed students from the most prestigious fashion schools worldwide and Young Professionals at the early stage of their career, challenging them to use their imagination to create the denim of tomorrow according to a fully responsible Creative Theme.
The event and the winners
On July 22, a special and "phygital" event announced this year's winners in the presence of international denim experts, top personalities from the fashion world and the authoritative network of first-class partners of the project, which includes ISKO Vital+™, Itema, Cadica Group, Cotton Incorporated, Replay and The Tailor Patter Support.
The announced winners were:
Winner of the Best Overall Look Award:

 

Lee Da Young – ESMOD SEOUL (South Korea);
Winner of the Best Marketable Product Award: Isabel Hambly – NTU Nottingham Trent University (UK);
Winner of the Best Show Piece Award: Carolina Viviana Wolf – AMD Akademie Mode & Design – Munich (Germany);
Winner of the Best 5 Pocket Jeans Fit Award: Morita Turika – BUNKA Japan (Japan);
Winner of the ISKO Vital+™ Best Face Cover Award: Yao Ziyu –

 

BIFT Beijing Institute of Fashion Technology (China);
Winner of the Best Overall Media Mention Award: Lina Mayorga –

 

Young Professional (USA);
Winner of the Cadica Pericolo Award: Jung Yeon Choi –

 

Esmod Seoul (South Korea), Kotryna Adomaityte – NTU Nottingham Trent University (UK) , Seohee Ruby Shin – FIT Fashion Institute of Technology – New York (USA).
A panel of influential jurors:
In charge of identifying this year's winners, the ISKO I-SKOOL™ jury included a selection of influential personalities from the denim industry, relying on their expertise and knowledge to choose the best creations. On July 21, they came together via Zoom to evaluate the 20 projects according to strict criteria, such as impact, storytelling and actual marketability of the garments.
ISKO I-SKOOL™ 7 jurors
Alberto Rigoni – Washing and Treatments Quality Manager of Replay
Carlo Parisatto – CMO & Sales Officer of Cadica Group
Miles Johnson – Founder of Johnson Design Consultancy
Jenny Lau – Journalist of The Secret Behind Fashion
Kelly Harrington – Founder of Kellouhar
Leonie Christians – Editor at Textilwirschaft
Maria Cristina Pavarini – Senior Features Editor at Sportswear International
Sara Maino – Deputy Director of Vogue Italia & Head of Vogue Talents
Simon Collins – Former Dean of Parsons Schools & Founder of WeDesign
Alessio Berto – Founder of The Tailor Pattern Support
Angela Chen – Cotton Inc. Executive Manager of Corporate Communications
Anita Tillman – Founder of Premium Trade Fairs
Watch here the ISKO ISKOOL™ 7 Denim Design Awards Final Ceremony
A unique creative theme
World's citizenship was the main concept of ISKO I-SKOOL™ 7's Creative Theme, "North, East, South, West – connected by one planet". The twenty shortlisted finalists were asked to dig into their roots and to approach different cultures, defining and tracking down the geography of the world connecting them through responsibility. In addition to exploring the planet both locally and globally, they were also required to take into account the product life cycle of their outfits – featuring a 5-pocket jeans to interpret their view on the "local" concept and two Denim Show Pieces to reflect their worldwide influences and topics of interest. These were made with top ISKO™ denim fabrics, meeting the designers' needs and providing a strong sustainable ingredient.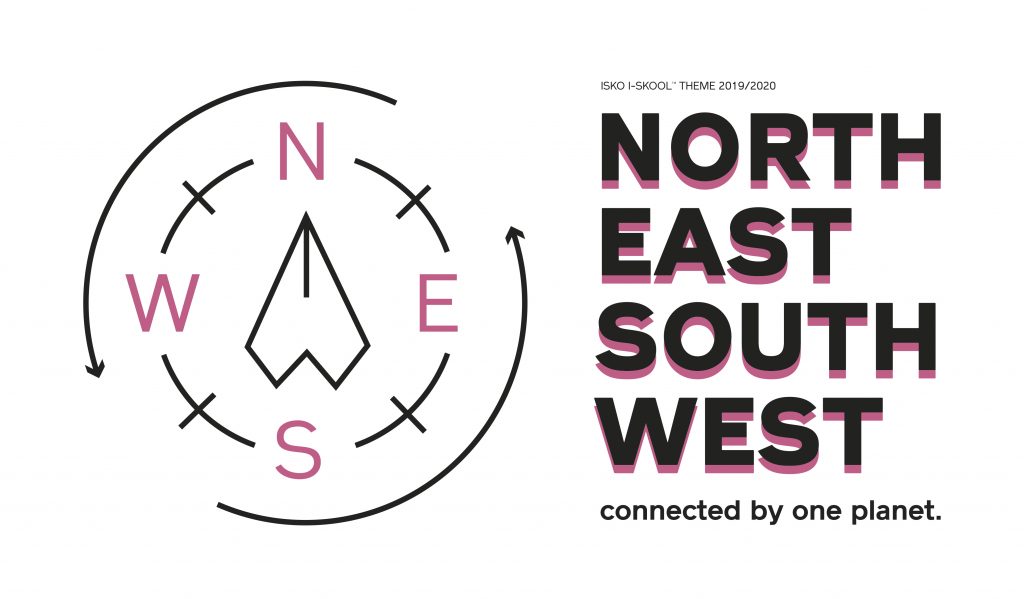 As the current international scenario evolved, during the year, the project had to come to terms with the challenges that came with this new normal, reflecting the same vision that led ISKO to support the community with its ISKO Vital+™ Face Covers.
All this was also the source of inspiration for the Final Award Ceremony video performance. Picturing the idea of creative young people at home, during quarantine, and their routine made of video calls, house chores, remote work and digital social gatherings, ISKO I-SKOOL™ 7 embraced the idea of a new normal where it is important to play with every object available, keeping creativity trained and looking at everyday routine from a different perspective.
The result is a collective of individuals, isolated but united in a colorful party full of everyday objects, balloons, flowers and light.
ISKO I-SKOOL™ 7 Performance Video Credits
Filippo Soffiati – Art Director & Stylist
Nicola Carignani – Director
Ugo Perazzini – DOP
Greta Giannone/Camilla Oldani – Hair & Make-Up
Andrea Brà – Sound Designer
Marina Tonella – Producer