Berlin, January 15th – Neonyt was the chosen platform for the launch of ISKO I-SKOOL™, the educational project promoted by ISKO and Creative Room™.
Aiming at nurturing creativity through hands-on experience of denim's infinite potential, it is enriched by an authoritative network of leading players making its competence and expertise available.
The new edition continues to welcome Young Professionals in the early stages of their careers and Students in their final Year of a Fashion Design BA or MA, involving talents from all over the world.
This year the program goes fully responsible with a Creative Theme that asks to explore the world both locally and globally, also taking responsibility of the product life cycle: "North, East, South, West – connected by one planet".


An inspiring CREATIVE THEME: "North, East, South, West – connected by one planet." 

Each year, a demanding and challenging Creative Theme asks participants to rethink their idea of denim, questioning their beliefs to commit to the development of new concepts and solutions. ISKO I-SKOOL™ 7th edition is no exception: this time around, designers will be working on their world's citizenship, digging into their roots and approaching different cultures to define and track down the geography of the world connecting them through responsibility.
Participants will be asked to develop a capsule collection according to their vision. This has to include two outfits, each one featuring a 5-pocket jeans to interpret their view on the "local" concept and two Denim Show Pieces to reflect their worldwide influences and topics of interest. The Denim Show Piece can be a garment or an accessory created by the designers and it can be made relying on any technique as long as it is responsible.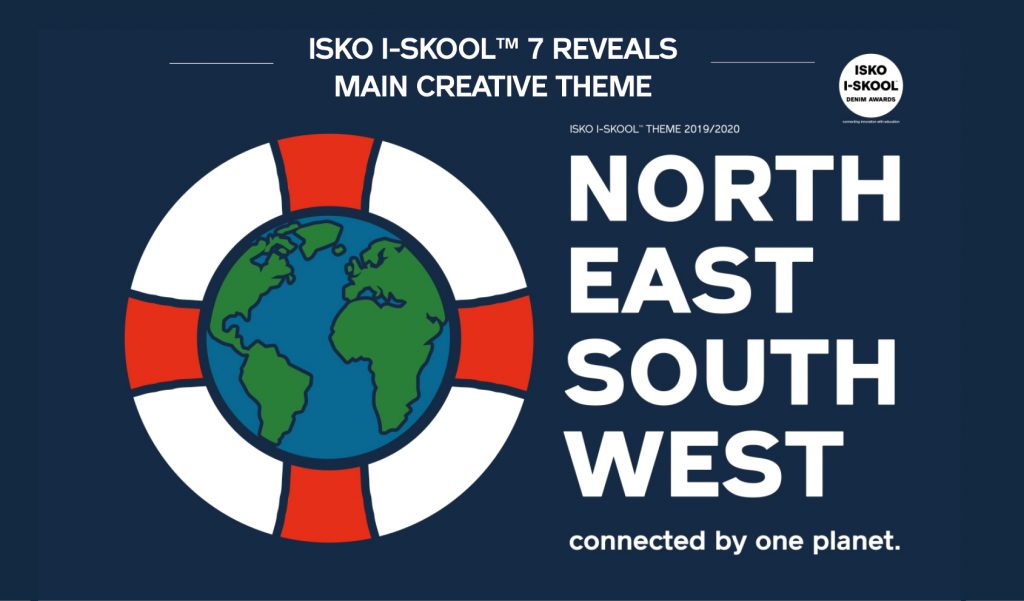 The schools involved.

ISKO I-SKOOL™ 7 will keep on raising the bar by involving only the most authoritative fashion beacons worldwide:
–           BIFT – Beijing Institute of Fashion Technology (Beijing, China);
–           Tsinghua University – Academy of Arts and Design (Beijing, China);
–           Bunka Fashion College (Tokyo, Japan);
–           ESMOD SEOUL (Seoul, Korea);
–           Istituto Marangoni – School of Fashion, Art&Design (Milan, Italy);
–           NABA – Nuova Accademia delle Belle Arti (Milan, Italy);
–           Polimoda (Florence, Italy);
–           AMFI – Amsterdam Fashion Institute (Amsterdam, The Netherlands);
–           Aalto University – School of Arts, Design and Architecture (Helsinki, Finland);
–           NTU – Nottingham Trent University (Nottingham, United Kingdom)
–           AMD – Akademie Mode&Design (Munich, Germany);
–           Parsons Paris (Paris, France);
–           FIT – Fashion Institute of Technology (New York, USA);
–           SCAD – The University for Creative Careers (Savannah and Atlanta, USA);
–           FIDM – Fashion Institute of Design and Merchandising (Los Angeles, USA);
Prestigious partners

ISKO I-SKOOL™ is enriched by contributions from a wide range of first-class players, such as producers, brands, business partners, artists, influencers and media. This authoritative network of leading players makes its competence and expertise available to nurture young denim talents. The project is continuously growing and it is always open to involving new business partners sharing the same approach towards tomorrow's game changers. For the seventh edition, partners will soon be disclosed.